Why Grooming your Pet?
Grooming contributes an important part of your pet's health. When brushing or combing regularly, it gives your pet a healthier and shinier coat, Percell Small Animal Grooming Tool set provides you with three different grooming tools as a nice way to bond with your pet.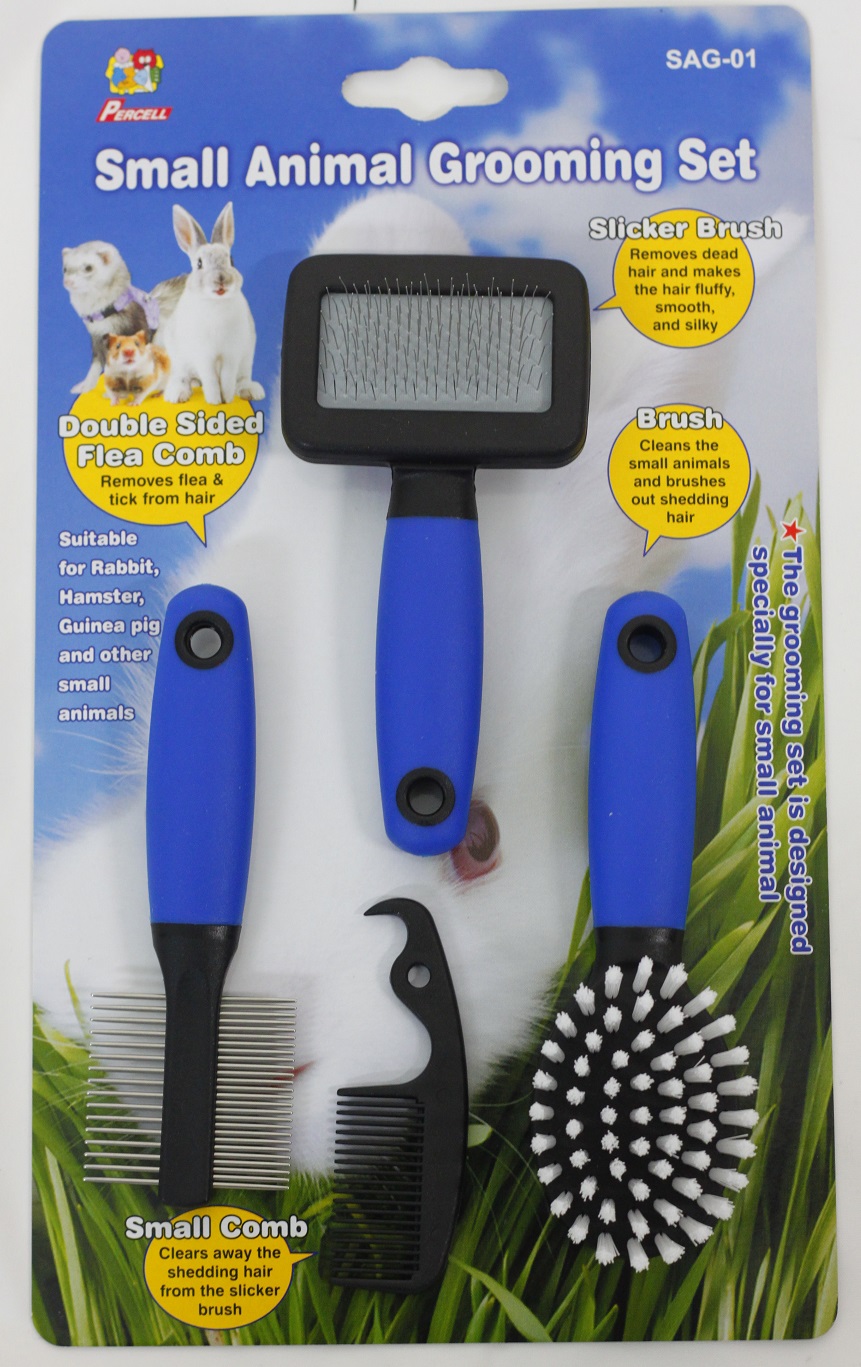 ☛PREMIUM QUALITY--- Our small animal grooming set is made of high quality material, it stimulates circulation of your pet, and also helps to keep your pet's coat shiny and healthy all the time.
☛MULTIFUNCTIONAL GROOMING SET--- The small animal grooming kit not only remove mats, tangles, knots with the small comb and the slicker brush, but also comb out fleas by the double sided flea comb.
☛ERGONOMIC DESIGN--- The handle can fit perfectly in the palm of your hand, makes brushing and grooming easier and more comfortable for both you and your pet.
☛SUITABLE FOR--- Our small animal grooming kit is suitable for all kinds of small animals, such as hamster, gerbil, guinea pigs, kittens, puppies and other small animals.
1) Double Sided Flea Comb:
Designed with a comfortable grip handle and a rounded shape teeth, grooms the undercoat well and quickly without scratching your pet's skin. As our small double sided comb is specially selected for small animals such as rabbits, guinea pigs and hamsters, etc. It works well on dogs and cats to groom around the face and ears when a regular brush or comb is too big.
The double sided flea comb is great for removing dirt, dead hair and eases knots and tangles. One side of the comb also helps to provide your pet a itch-free relief in a safe and natural way. The other side of the pet flea comb has closely spaced steel teeth that is best for eliminating flea eggs that have been laid on your dog or cat's skin.
2) Slicker Brush:
The outer casing of the slicker brush is made of high quality plastic and can be rinsed directly. The handle is ergonomically designed which makes it easier to comb and reduces the fatigue of the wrist.
Our slicker brush for small animal with short and long alternative pins, which are mounted on a cushion to enhance grooming action and to reduce excessive brushing force. The slicker grooming brush removes loose unwanted hair, tangles, dirt and debris effectively from both the undercoat and the top coat. Ideal for puppies and dogs with sensitive skin.
3) Brush:
Plastic bristles of the small animal soft brush is for gentle care, it stimulates the natural oils in the coat to improve the general health and appearance of the pet's coat. It also helps in massaging for a healthy coat, better for general brushing, especially on short, smooth or sensitive coated breeds.
4) Small Brush Cleaning Comb:
The small brush cleaning comb is used for removing the fur on all the grooming brushes and combs. You can quickly and easily clear the shredding hair away from the slicker brush, thus prolong the usage of the brushes and combs.
Grooming Tips:
1. Always comb in the direction of the fur growth, do not use excess force.
2. Comb your pet's fur twice a day, once in the morning and once at night, each for 5 minutes.
3. Groom your pets regularly to prevent mats and tangles, help them keep healthy and shiny coat.
4. Give your pet a bath after you have removed mats and tangles.
Attention:
1. Please clean the grooming tools promptly after each use and store it properly.
2. Pressing or treating pet skin violently can cause skin inflammation.
3. We recommend removing knots and tangles before brushing your pet.
Package Includes:
1 x Double Sided Flea Comb
1 x Small Comb
1 x Slicker Brush
1 x Brush
ABOUT US
PERCELL PET is established in 1978 with offices located in Taipei, Taiwan and Guangdong, China. Currently, we partner with more than 49 distributors around the world and carries thousands of quality pet supplies for dogs, cats, birds, fresh and salt water fishes, reptiles and small animals such as rabbits and ferrets, etc from both Taiwan and China.
We supply popular and classic Pet Products around the world and also OEM products at your needs. Such as Dog Products, Cat Products, Aquarium Supplies and Bird Supplies.
FLEXIBLE IN ORDER VOLUME, orders can be done in LCL or full container, MOQ can be discussed accordingly.
COMMUNICATION, staff are fluent in written English with in time replies.
SERVICE, provide help and solutions to your sourcing in Taiwan and China.
Looking for ideal Small Animal Grooming Kit Manufacturer & supplier ? We have a wide selection at great prices to help you get creative. All the Small Animal Grooming Set are quality guaranteed. We are China Origin Factory of Rabbit Grooming Kit. If you have any question, please feel free to contact us.