Do you feel frustrated with ordinary Pet Water Bottle that is constantly leaking?
Have you ever come across the terrible situation where your pet`s cage was all wet and disgusting?
Does your little naughty pet water bottle trouble maker always destroy all water bottles, creating a savage pond of wet blankets and hay?
Then you urgently need a totally leak-proof, sturdy and upgraded Small Pet Water bottle!
Percell Small Animal Water Bottle Has Finally Arrived, Which Serves as the Best bottle Out There for Your Smaller Friends!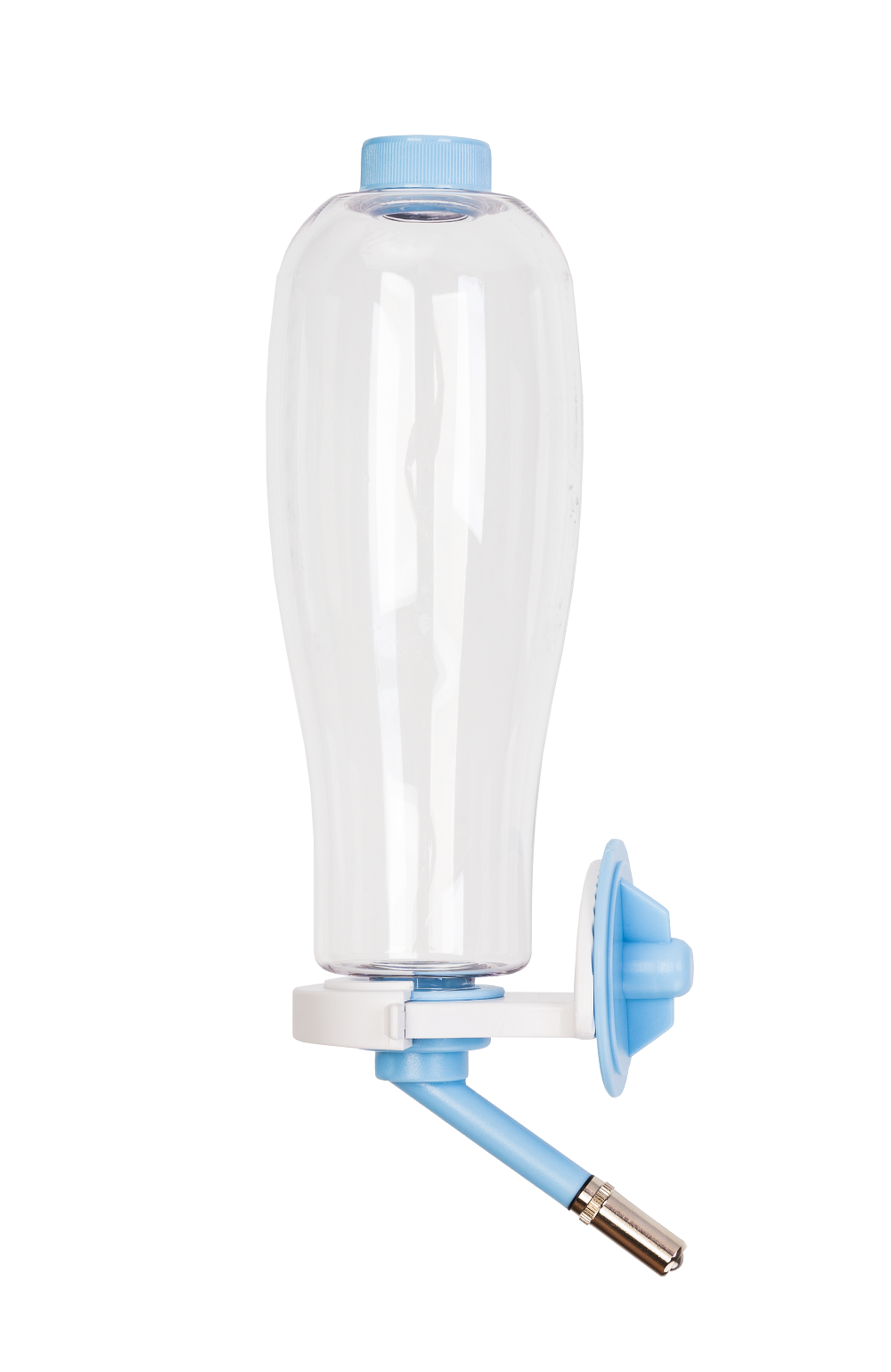 ✔NO DRIP OR LEAKAGE - Percell small animal water bottle has a completely leak-proof nozzle, effectively preventing bedding from getting wet and keeping cages clean. No breeding ground for bacteria, providing a safe environment for pets growth. The stainless steel drinking nozzle will keep away food crumble from polluting the water in the bottle.
✔STURDY & WELL MADE - The small pet water bottle is technologically perfectly designed. The plastic is strong and the base is well made. The base attaches firmly to the carrier's door and wired cage in eight different directions either inward or outward from the carrier or cage. Pets literally cannot knock this down thanks to the sturdy attachment design.
✔EASY SETUP, CLEANING & REFILLING - Simple and easy installation. A user-friendly screw-on bracket makes it easy to attach the bottle to the pet cage as well as to remove for cleaning or refilling. For refilling, simply remove the top cap on the small animal water bottle to refill with fresh water without removing the whole bottle. For cleaning the whole bottle, just remove the bottle from the bracket, no need to unscrew the bottle holder.
✔NO DEHYDRATION OR OVER DRINKING - The capacity of the pet water bottle is 17oz/500ml, ensuring that your pet stays hydrated precisely and properly. And there would be no over drinking or run-off.
✔PROPER SIZE - The proper size ensures that it can be filled up frequently with fresh water. It is a perfect solution for providing clean & fresh water for your little pets such as guinea pig, ferret, hamster, bunny, rabbits, rodents, rats, cats, puppies, chinchillas, and small dogs all day long!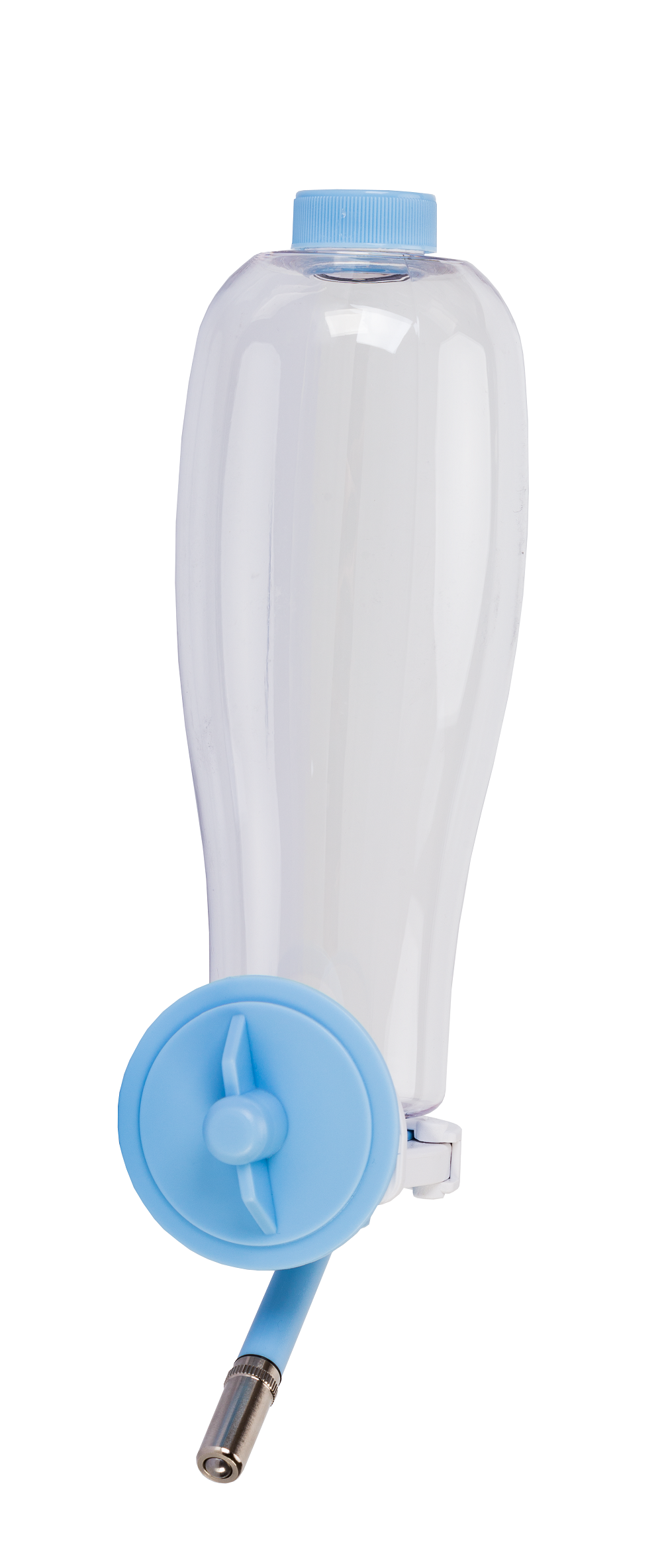 INSTRUCTION
✔Please check the nozzle daily by tapping the metal ball inside the nozzle to ensure it is functioning properly.
✔Please tap the metal ball inside the nozzle until water comes out after refilling the water bottle. There will be some air bubbles which show that the pet water bottle is ready for your little pet to use.
✔Do not squeeze the water bottle under any circumstances.
✔Do not over tighten the screw-on bracket.
✔Please rinse or wash the water nozzle at least once a week to remove dirt or dust and keep it clean and safe.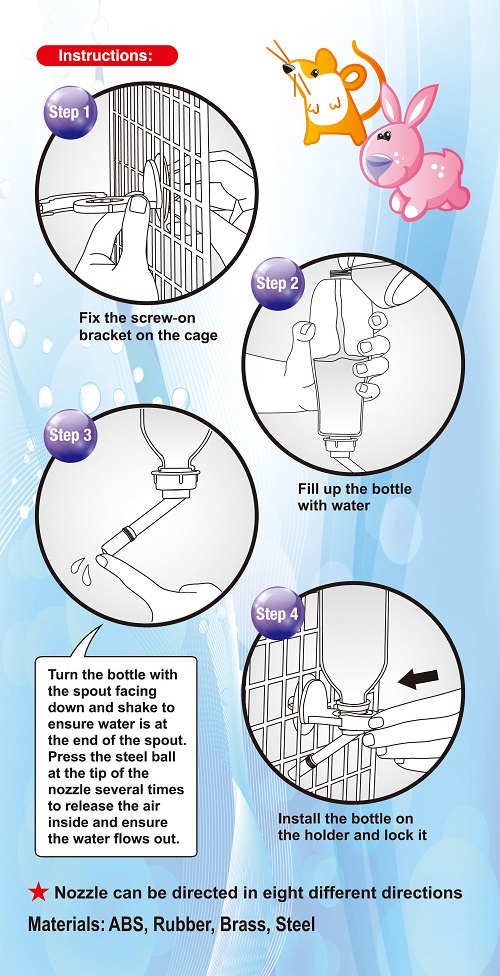 What else can we do?
We offer OEM production with your color choice at a MOQ.
OEM packaging if needed.
ABOUT US
PERCELL PET is established in 1978 with offices located in Taipei, Taiwan and Guangdong, China. Currently, we partner with more than 49 distributors around the world and carries thousands of quality pet supplies for dogs, cats, birds, fresh and salt water fishes, reptiles and small animals such as rabbits and ferrets, etc from both Taiwan and China.
We supply popular and classic Pet Products around the world and also OEM products at your request. Such as Dog Products, Cat Products, Aquarium Supplies, and Bird Supplies.
Flexible in Order Volume - orders can be done in LCL or full container, MOQ can be discussed accordingly.
Communication - staff are fluent in written English with in time replies.
Service - provide help and solutions to your sourcing in Taiwan and China.
Looking for ideal Small Pet Water Bottle Manufacturer & supplier ? We have a wide selection at great prices to help you get creative. All the Guinea Pig Water Bottle are quality guaranteed. We are China Origin Factory of Pet Water Bottle. If you have any question, please feel free to contact us.